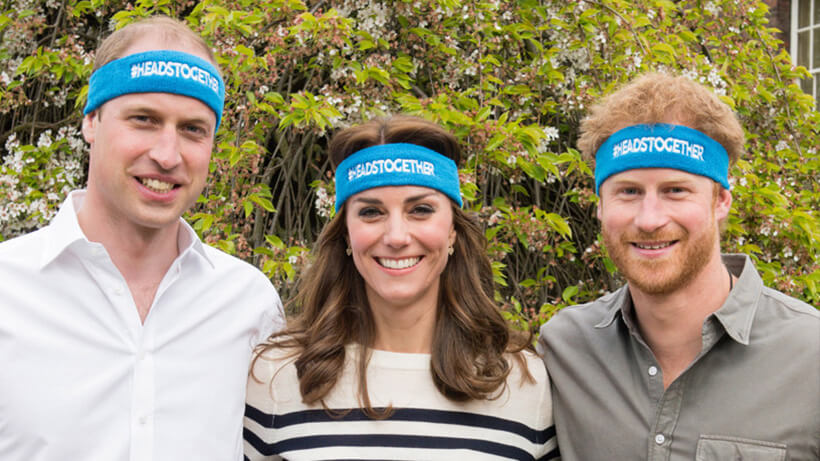 The Duke and Duchess of Cambridge and Prince Harry are spearheading the Heads Together campaign to end stigma around mental health. Heads Together aims to change the national conversation on mental health and wellbeing, and is a partnership with inspiring charities with decades of experience in tackling stigma, raising awareness, and providing vital help for people with mental health challenges.
There has been huge progress made to tackle stigma surrounding mental health in recent decades, but it still remains a key issue driven by negative associations, experience and language. Through this campaign, Their Royal Highnesses are keen to build on the great work that is already taking place across the country, to ensure that people feel comfortable with their everyday mental wellbeing, feel able to support their friends and families through difficult times, and that stigma no longer prevents people getting help they need.
They are privileged to be working with partner charities who have achieved so much in tackling stigma, raising awareness, and providing vital help for people with mental health challenges. The team of charity partners working on Heads Together covers a wide range of mental health issues that are close to The Duke and Duchess and Prince Harry's passions. They are:
WHAT IS CALM?
The Campaign Against Living Miserably (CALM) is an award-winning charity dedicated to preventing male suicide, the single biggest killer of men under the age of 45 in the UK. In 2015, 75% of all UK suicides were male.
WHAT DO THEY DO?
Offering support to men in the UK, of any age, who are down or in crisis via our helpline, webchat and website
Challenging a culture that prevents men seeking help when they need it, through CALMzine and campaigns such as #ManDictionary and #BiggerIssues
Pushing for changes in policy and practice so that suicide is better prevented, via partnerships such as The Alliance of Suicide Prevention Charities (TASC), the National Suicide Prevention Alliance (NSPA)
Supporting those bereaved by suicide, through the Support After Suicide Partnership (SASP), hosted by CALM, which aims to ensure that everyone bereaved or affected by suicide is offered and receives timely and appropriate support
CALM VALUES
CALM is about, for and on behalf of men. We use young men's peers, their voices and interests to reach them. We seek to work with clubs, venues and brands with voices that men respect, feel comfortable with and trust to get our message across.
We believe that there is a cultural barrier preventing men from seeking help as they are expected to be in control at all times, and failure to be seen as such equates to weakness and a loss of masculinity. We believe that if men felt able to ask for and find help when they need it then hundreds of male suicides could be prevented.
We're a campaign for all men, not just 'service users'. All of us, at one time or another and regardless of gender, can hit a crisis and so we could all do with support when things get tough.
MAKE A DONATION HERE or JOIN OUR GROUP DONATION AT THE INSURANCE TIMES AWARDS ON 7 DECEMBER 2017
£7 can pay for one call that could save a life
£23 pays for someone to take calls for an hour
£80 pays for our website for a day
£160 keeps one phone line open from 5pm to midnight for an evening